Portfolio of products
In the field of manufacturing, we focus on production and development of dietary supplements, cosmetics and pharmaceuticals in solid, half liquid and liquid form.
Solid forms - Tablets produced by humid, dry, blending granulation without or with coating (Aquacoat, Opadry, Sepifilm and Easycoat) and Capsules.


Half liquid forms - Pastes, Ointments, Creams and Reverse emulsions.


Liquid forms - Solutions, Suspensions and Sprays.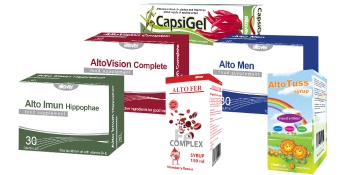 To see more products you can click HERE or contact us to get an offer of complete range.
What we offer
Tablets like AltoVen for support of overall health of blood vessels and to easy problems with hemorrhoids.
Capsules like AltoVision for nutrition of eyes containing, inter alia, 10 mg of lutein.
Powders like Neomycinum for treatment of infected wounds.
Gels like Capsigel to stimulate blood circulation with capsicum and lavender extract.
Syrups like AltoCal with CaMgZn complex and raspberry juice for kids.
Drops like Herbarum, a herbal drug for treatment of acute and chronic respiratory diseases.
---